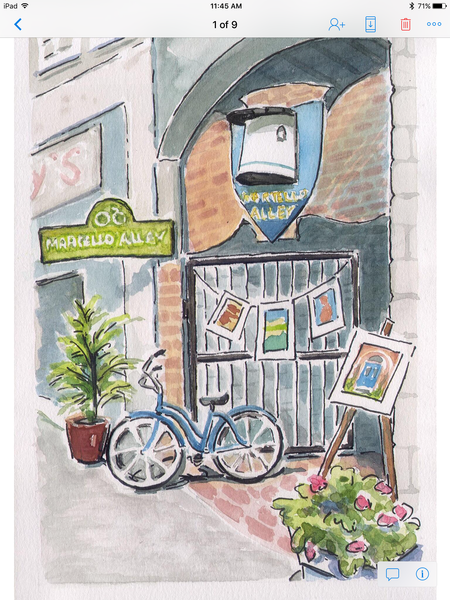 Alley Entrance 1 large card by Brenda Bielicki
---
---
---
The illustration created by artist Brenda Bielicki is a charming and detailed depiction of the entrance to Martello Alley in Kingston, Ontario. The illustration is rendered in delicate pen and ink lines, with intricate details that bring the scene to life.
At the forefront of the image, the entrance to Martello Alley is displayed in all its whimsical glory. The alleyway is framed by an archway with an old-fashioned, wrought-iron gate that adds a touch of vintage charm to the scene. The bricks of the walls that line the alleyway are lovingly rendered, with each brick meticulously drawn to create a sense of depth and texture.
The illustration captures the essence of Martello Alley's unique character and atmosphere. The alleyway is known for its colorful murals and artwork, and the card showcases some of the iconic pieces that adorn the walls. The intricate illustrations of the murals are drawn with a keen eye for detail, capturing the essence of each piece and bringing them to life on the page.
Overall, Brenda Bielicki's illustration  is a stunning tribute to the entrance of Martello Alley, conveying the whimsy, beauty, and character of this beloved Kingston landmark. The intricate details and delicate lines of the drawing demonstrate the artist's skill and passion for her subject, making it a perfect gift or keepsake for those who love Kingston and its unique artistic offerings.
---
Share this Product
---
---